The Ultimate Guide to All the Gyms in Bicester - Updated 2023
Embarking on a fitness journey or looking to switch up your workout routine? With a diverse range of gyms to choose from in Bicester, finding the right one for you can be a challenge. That's why we've created this comprehensive guide, designed to help you navigate the Bicester gym scene with ease. From membership options and facilities to each gym's unique selling points, contact info and location map, our in-depth analysis covers everything you need to make an informed decision.
Whether you're seeking state-of-the-art equipment, a wide variety of group classes, or a welcoming atmosphere and supportive community, our Ultimate Guide to Bicester Gyms has got you covered. Let us help you find the perfect fitness haven to support your health and wellness goals. Dive in and explore the best of what Bicester's gym landscape has to offer!
Click on a Gym to Read Our Review
How to Choose a Gym: Finding the Perfect Gym for Your Fitness Needs
Before we get to the good stuff, we've put together a comprehensive guide to help you choose the perfect gym that suits your unique needs and goals.
Qualities of a Good Gym
A good gym should possess the following qualities:
Cleanliness and maintenance: The gym should be well-kept and clean, with properly functioning equipment.
Variety of equipment: A diverse selection of machines and weights can cater to various fitness goals and preferences.
Helpful and knowledgeable staff: The staff should be approachable and knowledgeable, able to answer questions and provide guidance.
Convenient location and hours: Choose a gym close to your home or workplace with hours that fit your schedule.
Range of classes and programs: A good gym offers diverse classes and programs to keep workouts fresh and engaging.
Types of Gyms: Finding the Best Fit
Consider the following types of gyms when deciding which one is the best fit for you:
Traditional gyms: These facilities usually offer a wide range of equipment, classes, and amenities at an affordable price.
Boutique fitness studios: Smaller, specialized studios focus on specific workouts (e.g., spinning, barre) and often provide more personalized attention.
Specialized gyms: Facilities such as CrossFit boxes, yoga studios, or Pilates studios cater to particular fitness interests and preferences.
Community or recreational centres: These centres typically provide affordable access to fitness facilities, classes, and other recreational activities.
What Most People Look for in a Gym
When choosing a gym, most people prioritize the following factors:
Affordability: Compare membership fees, additional costs, and any promotional offers to find a gym within your budget.
Supportive environment: Look for a gym with a welcoming atmosphere and staff who create a positive workout experience.
Range of amenities: Consider amenities such as locker rooms, showers, and childcare services when evaluating a gym.
Membership flexibility: Opt for a gym with flexible membership options, such as month-to-month or pay-as-you-go plans.
Questions to Ask Before Joining a Gym
Ask these questions before committing to a gym membership:
What are the membership options and fees?
Can I try the gym before committing?
What classes and programs are available?
Is personal training available, and at what cost?
What are the peak hours, and how busy is the gym during those times?
Should I Join a Gym as a Beginner?
Joining a gym as a beginner can provide numerous benefits, including access to equipment, classes, and professional guidance. Look for a gym with beginner-friendly classes and supportive staff who can help you feel comfortable and confident. Take advantage of introductory offers, such as free trial periods or discounted personal training sessions, to ease into your fitness journey.
Finding the perfect gym involves considering factors such as location, affordability, atmosphere, and available amenities. By understanding your needs and preferences, you can choose a gym that best supports your fitness goals and helps you thrive on your journey to better health.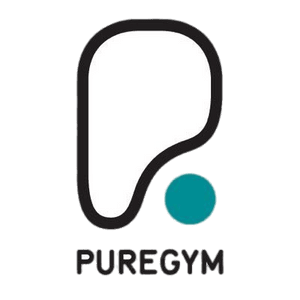 Having experienced PureGym Bicester firsthand, I can confidently say that it's a gym that caters to your every need, no matter the time of day. With 24/7 access, a wide array of premium gym equipment, and a variety of free classes suitable for all fitness levels, you'll find everything you need to achieve your personal goals. As a part of one of the UK's favourite gym chains, PureGym Bicester truly lives up to its reputation for offering state-of-the-art facilities.
Conveniently located in Kingsmere Retail Park, opposite Tesco and Bicester Village Designer Outlet, you'll have no trouble getting to and from your workouts. What's more, PureGym Bicester provides free parking for all members. The contract-free memberships are a real game-changer, allowing you the flexibility to start and stop your fitness journey as needed, without any long-term commitments.
Safety is clearly a priority for PureGym Bicester, as they have detailed guidelines for those who plan to train during unstaffed hours. I highly recommend checking their unstaffed hours document to ensure a secure workout experience.
Overall, my time at PureGym Bicester has been extremely positive. The gym is designed with your convenience and success in mind, making it an excellent choice for anyone looking to join a fitness community in Bicester.
PureGym Membership Costs & Options
Off-Peak*
£20.99 pm
Core
£27.99 pm
Joining Fee
£25
Pay as You Go
From £11.99 per day
Free Trial
No
*Limited hours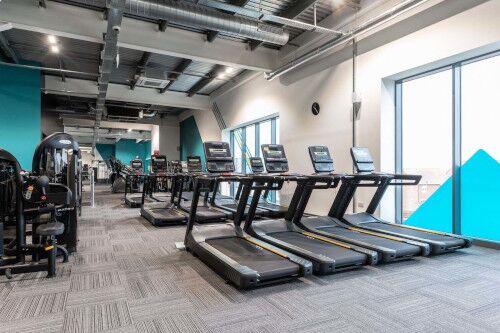 Free parking
No contract membership
Dumbbells up to 50KG
Olympic weightlifting platform
Functional RIG
Plate loaded kit available
Fully air-conditioned for your comfort
Changing rooms with showers
Free initial exercise induction
Personal trainers available
Studio instructor-led classes
Wide variety of classes
Over 220 pieces of state-of-the-art equipment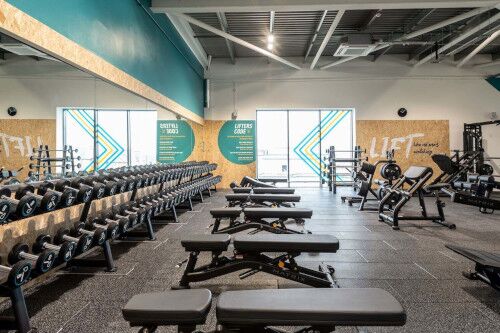 Over 50 classes per week including:
Pump:

Tone up, build muscle, and burn fat
Full-body resistance workout using weights
Upbeat exercises for an engaging total body experience

Burn It:

Focus on calorie and fat burning in optimum training zone
Bodyweight High Intensity Interval Training (HIIT) including Tabata
Boosts fitness levels and helps with shaping up and trimming down

Learn to Deadlift:

Expert-led workshops for learning to deadlift confidently
Covers the basics of good technique
Small, friendly groups with personalized guidance on form
Safe and confident training with weights

Metcon:

Strength and cardio-based 'metabolic conditioning' workout
Boosts fitness and strength gains
Moderate to high intensity with weight training and bodyweight exercises

Sweat 30:

Full body blasting exercises for challenge and transformation
Varying exercises and work/rest periods in each class
High-intensity workouts tailored to push your limits

Legs, Bums, and Tums:

Shape up and burn fat with lunges, steps, and squats
Fun class using weights and bodyweight
High-repetition routines targeting legs, bums, and tums
Aims to trim down those areas we love to hate, with rewarding results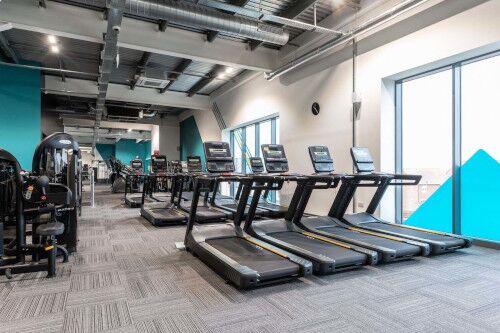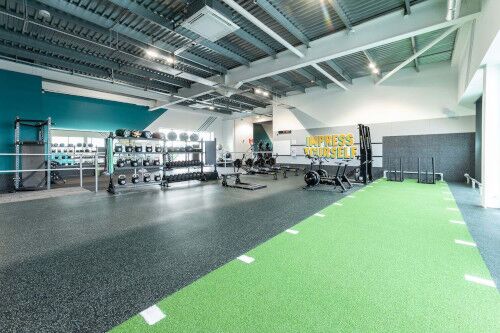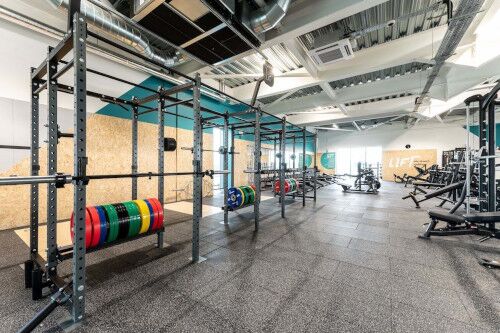 PureGym Bicester Location
Address
Bicester Shopping Park, Oxford Road, Bicester OX26 1BT
Telephone
+44 3444770005
Email
info.bicester@puregym.com
Monday to Sunday
24 hours a day
A Selection of Google Reviews
5 Stars – Aston
One of the best Pure Gyms around. If I was local I would be using more often. Very clean and an amazing view (of surround area of bicester) while you training. Will definitely be going back again.
Updated: still great and still one of the best in the chain.
If I lived in Oxford, I would spend the 30 minutes in the car just to go here 😉
5 Stars – Tanya
Great gym, very good value! By far the cheapest in Bicester! Certain times it can be frustrating when there are lots of guys hanging around the same but of kit on their phones – but that's the same everywhere not just specific to PureGym!
4 Stars – Gary
A very well equipped gym which has been known to handle over 120 people. The changing room is small but adequate. There are vending machines which supply energy snacks and drinks as well as a few items like headphones and proprietary items. Parking is plentiful and there is wheelchair access as well as a lift. The only reason I gave it 4 stars is the lack of a dedicated person to be in the gym to give information and assistance. It is annoying when you cannot actually speak to someone when you have account issues. Having said that there are about a dozen personal trainers that specialise in different disciplines, that are there a lot of the time. They cannot however access your account to sort out problems. All in all I wouldn't hesitate to recommend them to beginners and pro's alike. The app has a load of great info and workouts for all disciplines.
Google Reviews Overall Score - 4 Stars
I recently visited Bicester Hotel and Spa, which boasts a luxurious Health and Fitness Centre. The facility caters to those looking for a workout in their state-of-the-art gym, as well as those seeking relaxation with a gentle swim and sauna.
The gym at Bicester Hotel and Spa is furnished with cutting-edge Matrix 7xi cardiovascular equipment, featuring integrated software for an enhanced workout experience. This software allows you to watch TV or connect your workouts to MyFitnessPal for result tracking. The gym also utilises Fitlinxx and MYZONE operating systems, which provide comprehensive data on your workouts. To round out their offerings, they have a variety of Matrix and Cybex strength equipment to accommodate different fitness goals and preferences.
At Bicester Hotel and Spa, you'll find a team of highly qualified Fitness Instructors and Personal Trainers, always ready to assist members. They offer a wide range of appointments tailored to members' needs, ensuring a comfortable environment for achieving fitness goals. New members receive a programme via the Matrix Engage 360 Training System, with the option to review and update it every four to six weeks with the fitness team.
Lastly, the gym features MYZONE, a health and fitness solution that uses heart rate monitoring to provide real-time feedback during workouts. By wearing a MYZONE Physical Activity Belt, your Effort Tile is displayed on the club's screen, showing your workout intensity and logging your activity online. This innovative tool helps motivate and engage you throughout your fitness journey.
Bicester Hotel Gym & Spa Membership Costs & Options
12 Months Paid in Advance
£999
1 Month Rolling Contract*
£94 pm
Pay as You Go
No
Free Trial
No
* Plus 1 Off Admin Fee
£25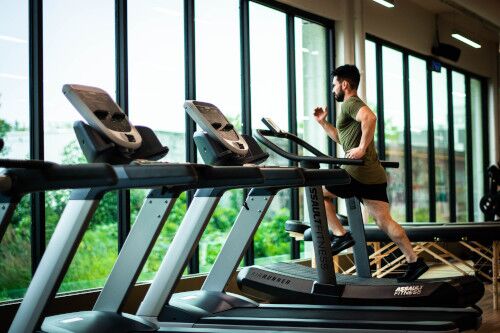 Premium Matrix equipment
Elite sports performance
Cardiovascular equipment
4 Squat racks
Kettlebells and Sandbags
Slam balls and Ropes
Weight machines
Free weights
Weight benches
6000 sq ft Gym Area
Café
Open-Water Swimming: 200m Performance Lake
Outdoor Assault Course
Paddleboarding
Outdoor Saunas
Team-Building Activities
Tennis Courts
Elemis Spa
20-metre swimming pool
Hydro spa
Spa pool
Sauna
Steam room
Foot spas
Feature showers
Private spa garden for relaxation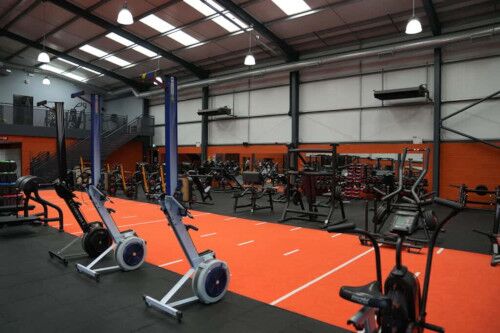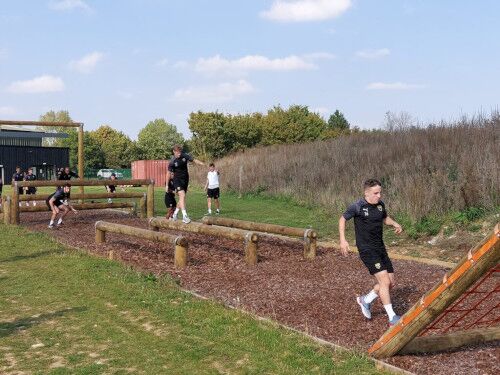 Over 70 classes per week including:
Pilates:

Low-impact workout emphasizing strength, flexibility, and balance
Focus on core muscles, posture, and body alignment
Controlled movements and exercises performed on a mat or Pilates equipment
Suitable for all fitness levels and ages

Swiss Ball Conditioning:

Full-body workout using a Swiss ball (also known as a stability or exercise ball)
Improves balance, core strength, and muscle coordination
Engages multiple muscle groups through a variety of exercises
Suitable for all fitness levels and ages, with modifications available

Body Blitz:

High-intensity, total-body workout designed to challenge and push your limits
Combines strength training, cardio, and functional movements for maximum results
Fast-paced, energetic class with little rest between exercises
Suitable for intermediate to advanced fitness levels, with modifications available

Ashtanga Yoga:

Dynamic and physically demanding style of yoga, linking breath with movement
Focuses on strength, flexibility, and balance through a series of poses
Follows a structured sequence of postures, offering consistency and progression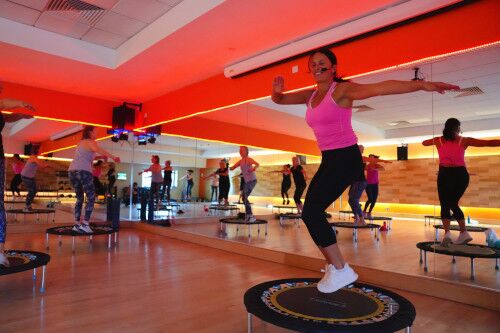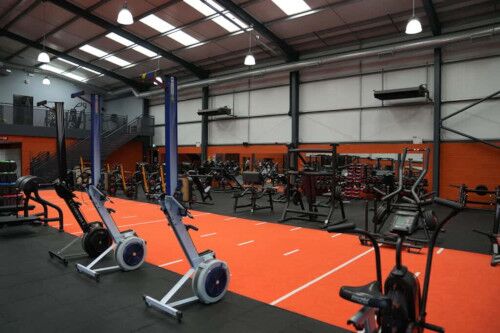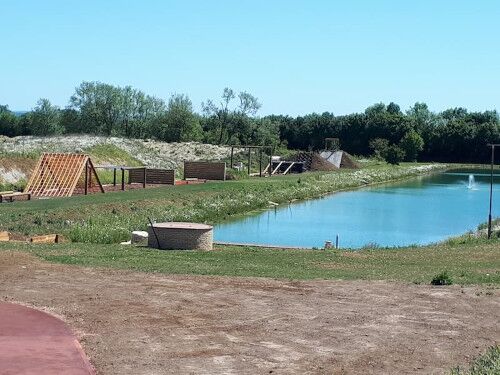 Bicester Hotel & Gym Location
Address
Green Lane, Chesterton, Bicester OX26 1TE
Telephone
01869 241204
Email
memberships@bicesterhgs.com
Monday – Thursday:
6:00 – 21:30
Friday:
6:00 – 21:00
Saturday:
7:00 – 21:00
Sunday:
7:00 – 20:00
A Selection of Google Reviews
5 Stars – Steven
I am a member of the health club and spa. Great pool, jacuzzi, steam room and sauna. Everything is well maintained and cleaned regularly which is important to me.
5 Stars – Geefi
My favourite place in Bicester/Chesterton. I'm pretty much here every day working out in the gym or using the spa.It's my happy place. Excellent facilities, friendly staff and a really good bar as well. Also the roof top terrace is one of best hidden gems in Oxfordshire
4 Stars – Christopher
Been a member here for 3 years. It's clean and well run with a good team in the spa and fitness area. The golf course is well laid out and presents a good test of skill. The Creche is very good. I can't vouch for the hotel however!
Google Reviews Overall Score - 4.2 Stars
David Lloyd Clubs Bicester

I had the opportunity to visit David Lloyd Clubs Bicester, which opened its doors in 2022, and I must say, it exceeded my expectations as more than just a gym. Becoming a member gives you the flexibility to design your fitness journey with every visit, whether you're up for a solo swim, a revitalising spa session, or an invigorating exercise class.
Membership at David Lloyds Bicester opens up an exceptional world of health and fitness facilities, perfect for working out, unwinding, and socialising. With options ranging from Signature exercise classes and a selection of indoor and outdoor racquet courts, there's something for everyone. Families will also appreciate the diverse facilities catering to all ages including a creche to look after your little ones while you're working up a sweat.
The gym itself is a thoughtfully planned space, equipped with state-of-the-art fitness equipment. Members can benefit from introductory sessions conducted by professional trainers, suitable for all levels of gym-goers. The club offers a wide variety of classes, from dynamic workouts to strengthening yoga, ensuring there's a perfect fit for everyone's taste and fitness goals.
In addition to the excellent gym facilities, the club features a cutting-edge functional training rig, allowing you to diversify your workouts. You can also monitor your progress using the complimentary Boditrax system. If you need a little extra motivation or guidance, David Lloyd Bicester offers free gym taster sessions to help you find your footing.
When it's time to relax and recharge, the indoor spa facilities and the serene Spa Garden offer the perfect environment. Indulge in the steam room, saunas, and heated beds, designed for ultimate relaxation and providing additional health and wellness advantages.
Tennis enthusiasts will find David Lloyd Bicester an ideal destination, with the indoor tennis dome enabling play all year round. The club provides professional coaching, lessons, and competitions for players of all abilities.
Swimming fans can enjoy the club's heated indoor and outdoor pools, participate in aqua classes, and make use of the dedicated children's pools. The club also boasts a spacious family changing area and a sun terrace for unwinding after a swim.
Overall, David Lloyd Clubs Bicester delivers a diverse and comprehensive fitness experience with its top-tier facilities, classes, and services, catering to a wide array of preferences and requirements.
David Lloyd Clubs Bicester Membership Costs & Options
12 month contract
£134 pm
Joining Fee*
£60
Pay as You Go
No
Free Trial
Yes
*Joining fee includes 3 x personal trainer sessions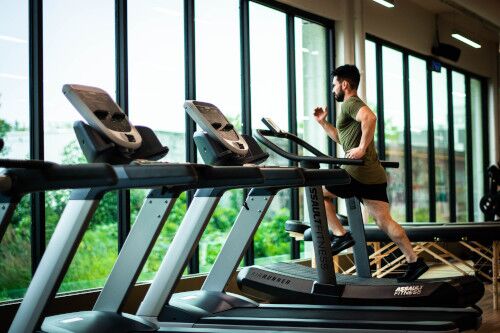 State-of-the-art fitness equipment
Functional training rig
Indoor and outdoor swimming pools
Children's pools
Tennis courts
Indoor tennis dome
Spa facilities (steam room, saunas, heated beds)
Spa Garden
Group exercise classes
Personal training
Boditrax system
Family changing area
Sun terrace
Woodway Curve treadmills
Rowing machines
Cross trainers
Octane machines
Wattbikes
Power plates
Half racks with lifting platform
Sled track
Assault bikes
Creche
MyZone heart rate monitor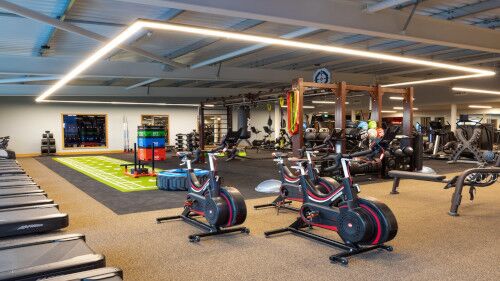 Over 100 classes per week including:
Blaze:

Full body workout combining cardio, strength, boxing, and martial arts
High-intensity interval training (HIIT) format
Purpose-built studio with specialist equipment
Performance tracking to help achieve fitness goals

Strength & Conditioning:

Complements individual weight training and resistance workouts
Wide range of classes available
Aims to increase muscle tone, strength, and muscle mass
Suitable for various fitness levels

HIIT:

Challenging workout for all fitness levels
Combines a variety of exercises targeting multiple muscle groups
Alternates between intense work and rest periods
Enhances cardiovascular fitness and promotes fat loss

Holistic:

Steady approach to improve flexibility and mental well-being
Focuses on developing a strong, stable core
Takes place in dedicated Mind and Body studios
Offers a variety of holistic classes, including yoga and Pilates

Cycling:

Ideal for cardiovascular workouts on two wheels
Takes place in purpose-built studios with top-quality bikes
Offers a diverse range of group cycling classes
Includes both virtual and instructor-led sessions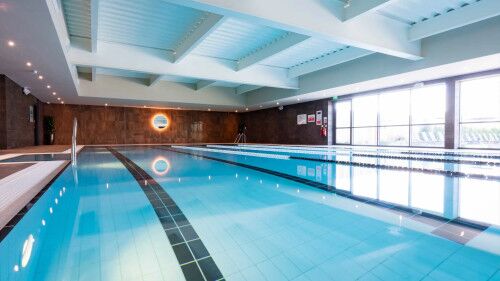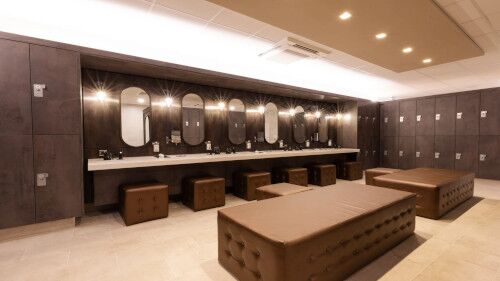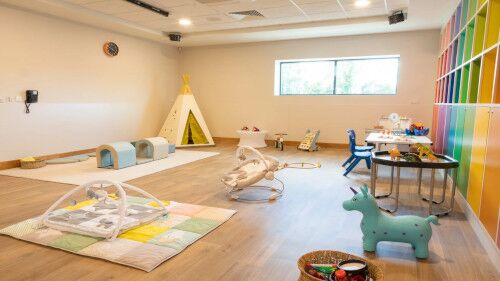 David Lloyd Bicester Location
Address
Wendlebury Road, OX25 2BX
Telephone
01869 948340
Email
bicester@davidlloyd.co.uk
Monday to Friday
6am – 10pm
Saturday & Sunday
7am – 9pm
A Selection of Google Reviews
5 Stars – Vibhuti
I went to David Lloyd Clubs with a friend, they had to use their guest pass to get me through. It was a very relaxing and rejuvenating evening we spent at the club. We had a heavy carb meal at their restaurant before we went in to burn the kcals out. The food was good too. Would recommend even though the membership charges are quite hefty.
5 Stars – Jamie
Great gym, amazing facilities, design and layout is brilliant. Staff are very friendly and helpful. Only criticism is I wish there were adult only times/days as there are always a flood of kids no matter what time I go. Otherwise gym equipment is a solid 10/10 on quality and variety. Plenty of different facilities like indoor badminton courts, outside dome of tennis courts, paddle ball courts, meditation rooms, blaze fitness and cycle rooms, two large indoor and outdoor swimming pools etc… Albeit not everything is for me but there is literally something for everyone. Classes run all throughout the day which you can book very easily. Food isn't too bad either! So all in all very good faculty, I would recommend.
4 Stars – Nick
Good gym and pool. Very noisy with a lot young children. Seems like it was over capacity for a while but it has calmed down now!
Google Reviews Overall Score - 4.4 Stars

After visiting Anytime Fitness Bicester, I was impressed with the welcoming atmosphere and dedicated staff. The 24/7 access, free parking, and town center location make it highly convenient, while the membership benefits such as 3 free wellness consultations, a Workouts App, online workouts, member discounts, and access to 180+ UK and 4,500+ clubs worldwide are outstanding.
The gym is exclusively for those over 18 and offers a variety of equipment, including free weights, squat racks, plate-loaded machines, dumbbells, battle ropes, multi-functional racks, treadmills, cross trainers, and exercise bikes. The 24-hour security ensures a safe environment for everyone.
Anytime Fitness Bicester also offers fitness orientation, personal training, and small group training. Public service sector employees and those with employer schemes can avail discounted rates. To help track progress and set goals, the gym provides a free Health Journal for members. The coaches are supportive and assist members in making the most of their membership with 3 free wellbeing appointments.
AnyTime Fitness Bicester Membership Costs & Options
12 month contract
£42.95 pm
12 months pre-paid
£430
Prime (over 50s) 12 month contract
£32.95 pm
Prime (over 50s) 12 month pre-paid
£350
6 month contract
£52.95 pm
6 month pre-paid
£290
Security fob
£40
Pay as You Go
No
Free Trial
Yes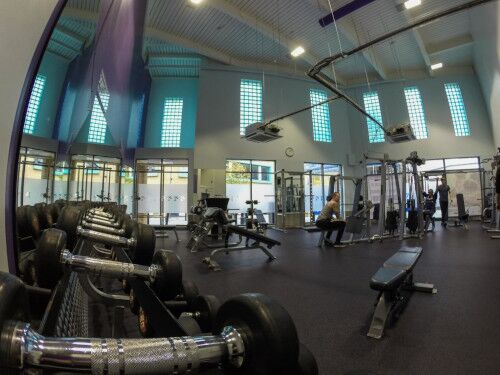 24-Hour Access
Convenient Access
24-Hour Security
Free Parking
Convenient Parking
Worldwide Club Access
Private Bathrooms
Private Showers
Small Group Training
Personal Training
Classes
HDTVs
Corporate Discounts
Fitness Plans
Free Classes
Free Weights
Squat Racks
Plate Loaded
Barbells
Dumbbells
Battle Ropes
Multi-Functional Rack
Treadmills
Cross Trainers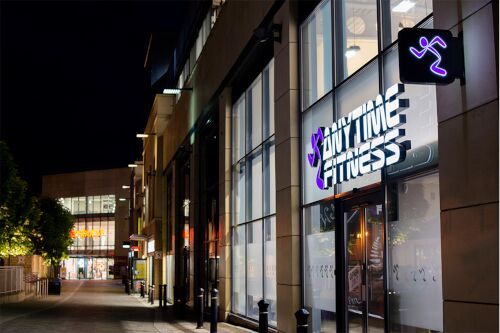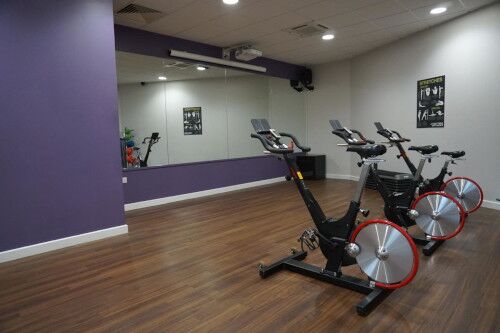 Over 25 classes per week including:
Bike & Body:

Combines cycling and strength training
Alternates between bike intervals and bodyweight exercises
Full-body workout targeting various muscle groups
Suitable for all fitness levels, adaptable to individual needs

Abs & Core:

Focused on strengthening abdominal and core muscles
Variety of exercises targeting different core areas
Improves overall stability and balance

Dumbbell Basics:

Introduction to proper dumbbell usage and techniques
Covers a range of basic dumbbell exercises
Focus on proper form and muscle engagement

Tone Up Top:

Upper body-focused workout class
Combines strength training and cardiovascular exercises
Targets arms, shoulders, chest, and back muscles
Helps to sculpt, tone, and increase upper body strength

Spinal Health:

Focus on improving spinal health and posture
Incorporates stretching and strengthening exercises
Targets muscles supporting the spine
Promotes overall flexibility and balance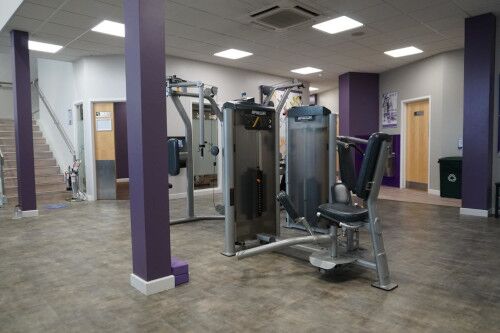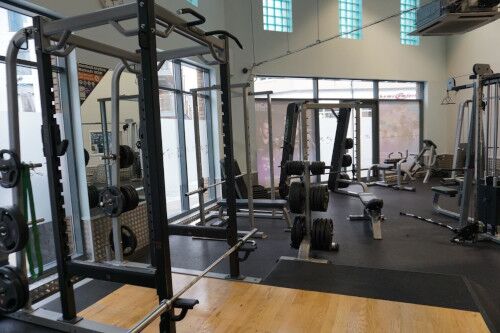 AnyTime Fitness Bicester Location
Address
Unit A5, Pioneer Square, South East, Bicester OX26 6FA
Telephone
01869 690099
Email
bicester@anytimefitness.co.uk
Monday to Sunday
24 hours a day
A Selection of Google Reviews
5 Stars – Jayne
I absolutely love training at this gym, there's a fantastic selection of gym equipment and free weights. Also a brilliant range of bikes, cross trainers, etc for CV workouts.

The gym is very well laid out, light and spacious, also always extremely clean.
Lovely helpful staff, especially Jasper and Gemma.
5 Stars – Danielle
Since joining the gym back in December I have received nothing but support, guidance and outstanding service from the team! They understand my goals and are actively helping me to achieve them.
The gym itself is always clean and has a welcoming environment, I have never once been dissatisfied with the state of the gym.
Jasper and the team have really gone above and beyond for not only me but many other members at the gym. I would recommend this gym to anyone who is thinking about starting a fitness journey or is looking for somewhere new.
4 Stars – David
I've been going to this gym for about 18 months. Very friendly and approachable staff. They have recently change the lay out for the upper level which is a great improvement ensuring that the foam mats are now on the opposite side of the space over looking the balcony. This is a quieter space and ensures I am not disturbed by people using the boxing bag or using the other equipment when I am doing my stretches and cool down at the end of my session. Also the air conditioner blows nice cool air over this area which really helps with my cool down in this hot weather!
Google Reviews Overall Score - 4.5 Stars
Train Like a pro at the gym
Gym Etiquette and Courtesy
Wipe down equipment after use
Put weights and equipment back in their designated areas
Share equipment and be mindful of others waiting
Use headphones when listening to music
Avoid excessive grunting and dropping weights
Proper Workout Attire
Wear comfortable, breathable clothing
Choose appropriate footwear for your workout type
Avoid overly baggy clothes or restrictive attire
Keep jewelry to a minimum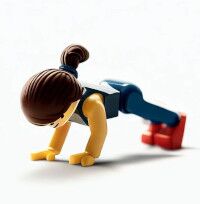 Warm-up and Cool-down Routines
Dedicate time to a dynamic warm-up before your workout
Perform static stretching and cooldown exercises post-workout
Incorporate foam rolling for muscle recovery
Mastering Gym Equipment
Learn how to properly use each piece of equipment
Ask gym staff for assistance if unsure
Start with lighter weights and progress gradually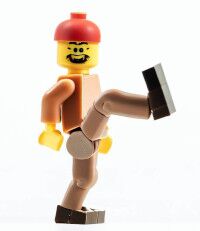 Understanding Basic Exercise Techniques
Focus on proper form and alignment
Learn the basic movements for major muscle groups
Progress to more advanced exercises over time
Personalizing Your Workout Plan
Set achievable, realistic fitness goals
Choose exercises and routines that align with your goals
Track your progress and adjust your plan as needed
Maintaining Consistency and Progression
Stick to a regular workout schedule
Increase intensity, duration, or frequency as you progress
Avoid plateaus by incorporating variety in your routine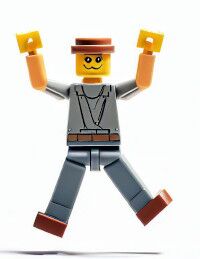 Staying Hydrated and Nourished
Drink water before, during, and after your workout
Consume a balanced diet with adequate protein, carbs, and fats
Consider pre- and post-workout nutrition to fuel your body
Embracing Safety and Injury Prevention
Listen to your body and know your limits
Use proper form and avoid overloading weights
Rest and recover between workouts
Developing a Mindset for Success
Stay positive and focus on your achievements
Avoid comparing yourself to others
Seek support from workout buddies or a personal trainer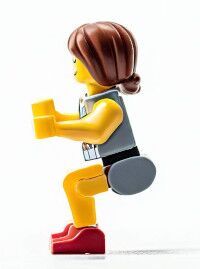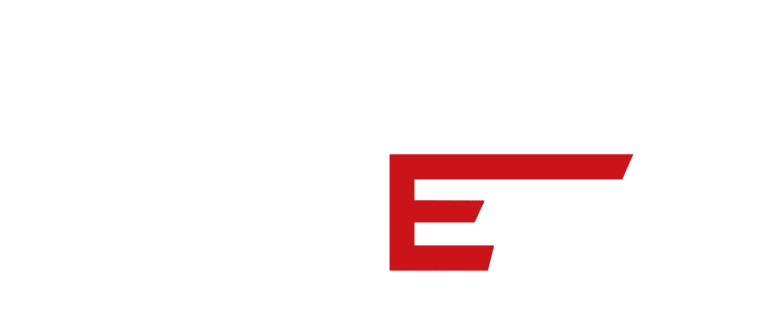 During my visit to BSC Fitness Bicester, I was struck by the passion and commitment that the team had for empowering their members and helping them feel strong and confident. The gym offers a 30-day experience that includes 12 small group personal training sessions, unlimited fitness classes, a movement analysis, personal program, and nutrition support, all designed to help members feel powerful and confident in their fitness journey.
The coaches at BSC Fitness are top of their game, providing the latest advances in programming and education, and fostering a supportive community atmosphere. The gym's focus on delivering results is evident in their combination of small group personal training and diverse fitness classes tailored to meet members' individual needs and goals.
I was impressed by the 30-Day Experience, which aims to transform both physical and mental health by offering expert evaluation, unlimited fitness classes, and personalized coaching. BSC Fitness takes a holistic approach, addressing not only physical training but also nutrition and mindset, ensuring that members have a well-rounded experience.
The small group personal training sessions and fitness classes available at BSC Fitness are designed to help members build a strong foundation in movement and achieve their goals. Classes include Burn, Burn EX, Build, and Balance, catering to various fitness needs and objectives. BSC Fitness is a vibrant and bold gym that aims to make a significant impact on the lives of its members by providing a supportive environment where they can thrive and realize their full potential.
BSC Fitness Bicester Membership Costs & Options
30 Day Trial Package
£139
Take part in as many classes as you like and get access to 12 x small group personal training sessions
Normal price
£279 pm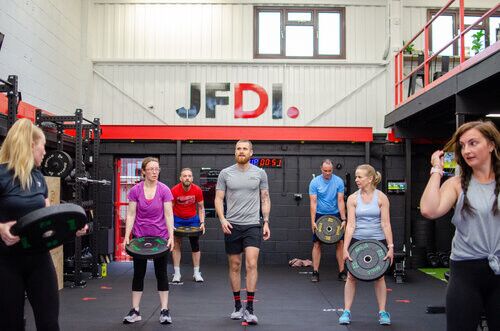 Small group personal training sessions
Unlimited fitness classes
Movement analysis
Personalized program
Nutrition support
Expert evaluation
Range of cardio equipment
Range of free weights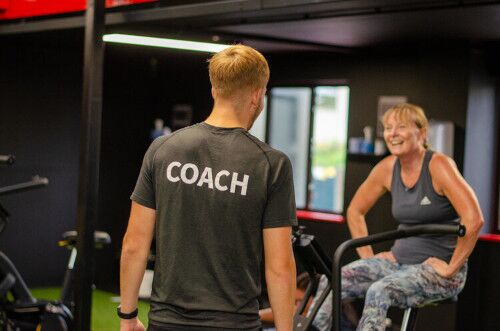 Over 40 classes per week including:
Burn:

Focuses on multiple energy systems
Combines various intensity levels for a diverse workout
Includes both longer aerobic exercises and short, intense bursts
Aims to improve overall fitness and push personal boundaries

Burn Ex:

Offers a short, intense workout
Focuses on efficiency and elevated heart rate
Designed for a sustained period of exertion
Ideal for stress relief and mental rejuvenation

Build:

Focuses on upper body hypertrophy
Aims to improve muscle tone, shape, and strength
Provides a chance to practice and perfect upper body exercises
Ideal for those looking to enhance their upper body physique

Balance:

Emphasizes joint health improvement
Aims to reduce injury risk and enhance performance
Focuses on enhancing everyday life quality
Complements other high-intensity workouts for a well-rounded fitness routine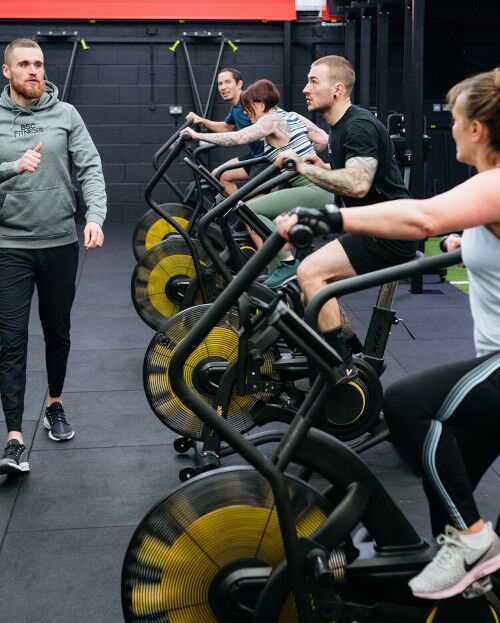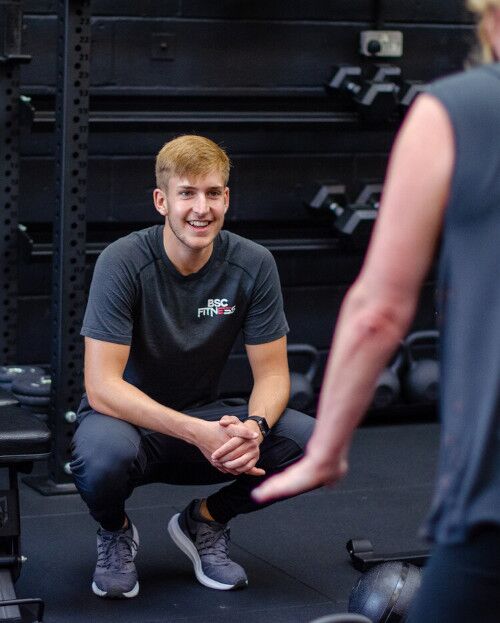 BSC Fitness Bicester Location
Address
35 Wedgwood Road, Bicester OX26 4UL
Telephone
07596 843106
Email
bscfitness@outlook.com
Mon, Weds, Thurs
5.50am – 8pm
Tuesday
5.50am – 9pm
Friday
5.50pm – 8pm
Saturday
7am – 11am
Sunday
Closed
A Selection of Google Reviews
5 Stars – Ash
I would highly recommend BSC! After searching for a new gym post lockdown, I thought I would try something new. I expected myself to leave after the 30 day trial but over a year later I couldn't imagine not being a part of BSC! The sessions are the perfect mix of pushing yourself whilst enjoying yourself. BSC has massively helped improve my physical and mental health. The coaches are knowledgeable and make a conscious effort to adapt to your personal situation. Everyone you meet is friendly & supportive!
5 Stars – Karen
From the moment I walked in over a year ago to present day BSC and its coaches have made my fitness journey an amazing experience. The gym is well equipped (no mirrors thank goodness 😅), coaches so knowledgeable and an amazing energetic vibe to the place. Cannot recommend it enough….
4 Stars – Jason
My first class at bsc fitness was amazing good coaching staff highly recommended it for those who want to get fit 💪👊✌
Google Reviews Overall Score - 5 Stars

I had a great experience exploring Bicester Leisure Centre's wide range of facilities. The state-of-the-art gym offers 90 stations, including modern equipment like treadmills, cross trainers, rowers, and weights up to 50kg. The friendly staff were always available to help and even offered personal fitness planning.
The centre has a diverse offering of group exercise classes, accommodating different preferences and fitness levels. The facility also boasts a 25m swimming pool, a 15m learner pool, and fun inflatable sessions, making it suitable for both serious swimmers and families.
With over 90 classes per week, Bicester Leisure Centre provides options like Group Cycling, Body Pump, Circuits, and Zumba, led by top-qualified instructors. The sports hall and pitches also offer facilities for various sports such as five-a-side football, badminton, squash, and table tennis.
In addition to their impressive fitness offerings, the centre provides private changing cubicles, showers, and lockers for a comfortable experience. The boditrax system, which assesses body mechanics, is available to members for free. Overall, I highly recommend Bicester Leisure Centre for its comprehensive fitness options, friendly staff, and welcoming atmosphere.
Bicester Leisure Centre Membership Costs & Options
12 months pre-paid
£432
12 Month Contract
£40 pm
1 Month Rolling Contract
£45pm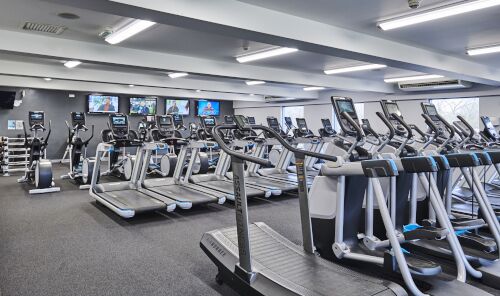 90 station gym
Treadmills
Cross trainers
Rowers
12 resistance machines
Weights room (up to 50kg dumbbells)
2 half racks with inserted lifting platforms
Dedicated core and stretch area
Motormed
Private changing cubicles
Private showers
Lockers
Boditrax system
25m swimming pool
15m learner pool
Inflatable sessions in the main pool
Exercise studios
Sports hall
Five-a-side football
Squash courts
Table tennis
Health suite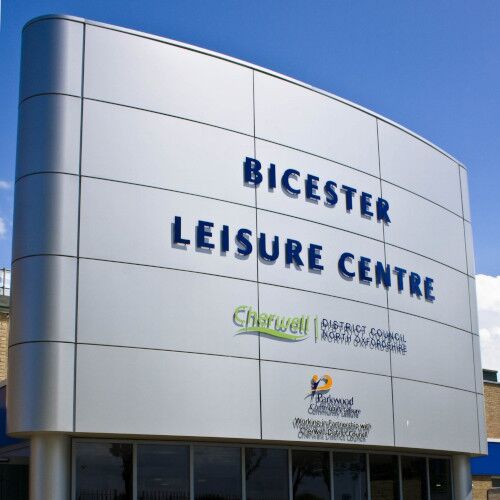 Over 100 classes per week including:
Virtual Bodybalance:


Combines yoga, tai chi, and Pilates
Online class with engaging instruction
Focus on flexibility and balance
Promotes relaxation and mental well-being

Virtual Grit Cardio:

High-intensity interval training (HIIT)
Virtual class with motivating guidance
Focuses on improving cardiovascular fitness
Fast-paced, dynamic movements for maximum calorie burn

Virtual Body Combat:

Non-contact, martial arts-inspired workout
Virtual class with energetic instruction
Increases strength, flexibility, and endurance
Combines various disciplines, such as karate, boxing, and taekwondo

Virtual Bodypump:

Full-body barbell workout
Virtual class with guided instruction
Strengthens and tones major muscle groups
Focuses on high repetitions with low weights for a lean, strong physique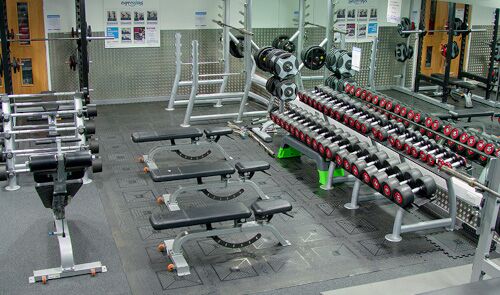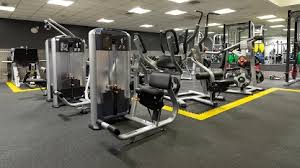 Bicester Leisure Centre Location
Address
Queens Avenue, Bicester, Oxfordshire, OX26 2NR
Telephone
01869 253914
Email
n/a
Monday to Friday
6am – 10.30pm
Saturday
7am – 6.30pm
Sunday
7am – 9pm
A Selection of Google Reviews
5 Stars – Donna
This is a straightforward public gym, which is more affordable than private facilities that include swimming and health suite. Generally speaking, I could not fault what was on offer. This is mainly due to the excellent staff team and most of all Laurence Bourne-Francis, who is the most extraordinary teacher. I would start my week with one of his dance classes. OMG – how much fun can you have first thing on a Monday, full of guilt for skiving off? The facilities broke from time to time, which could be annoying, but the quality of the team made up for any other lack. The other positive is that the gym hosts a lot of additional classes such as gymnastics. There is a lot under one roof!
5 Stars – Martin
Been a member here a few years now i can highly recommend the sports centre most of all the gym
Give it a try
4 Stars – James
Gym recently revamped and is well equipped and generally not too busy.

Changing rooms and showers for the gym/health suite need some attention/modernising, pool area ones are better but other side of the centre from the gym.

Pool getting on a bit but perfectly functional and a good temperature.

Staff have always been helpful when needed.
Google Reviews Overall Score - 4 Stars
Frequently Asked Questions
What should I consider when choosing a gym?
When choosing a gym, consider factors such as location, operating hours, equipment and facilities, group fitness classes, atmosphere, and membership fees.
What types of gym memberships are usually available?
Gym memberships can include monthly or annual options, pay-as-you-go plans, family or couples memberships, and student or corporate discounts.
What facilities and amenities should I look for in a gym?
Look for facilities such as a variety of cardio and strength training equipment, group fitness classes, personal training options, locker rooms, and showers. Additional amenities may include a pool, spa, sauna, or café.
Can I easily switch or cancel my gym membership if needed?
Gym policies on switching or cancelling memberships vary. Some may offer contract-free memberships, while others may require a cancellation fee or notice period. Review the gym's terms and conditions for details.
Are there specific gym options for beginners or those with special needs?
Many gyms offer beginner-friendly classes and equipment, as well as options for individuals with special needs. Look for gyms with staff trained to accommodate specific requirements or beginner-focused classes.
What types of group fitness classes are commonly offered at gyms?
Common group fitness classes include yoga, Pilates, HIIT, strength training, dance-based workouts, spinning, and circuit training. Class offerings will vary by gym.

Upon visiting Impact Training Bicester, I discovered a premier functional training fitness facility that offers CrossFit classes and more. The gym provided a supportive and non-judgmental community, making it the perfect place for anyone looking to improve their fitness, regardless of their experience level.
At Impact Training Bicester, they offer Beginners On-ramp, which includes one-on-one sessions with CrossFit trainers for those new to CrossFit or in need of a refresher. This is included in the Full Membership option. They have various membership options, such as Full Membership with unlimited classes and Open Gym access, and Partial Membership with limited classes and Open Gym access.
During my trial month, I had the chance to experience their unique classes and witness their amazing coaches in action. The classes cater to all skill levels, and the coaches ensure that everyone moves safely, provides motivation, and offers help when needed.
I also had the opportunity to attend their monthly socials and events, which helped create a family-like atmosphere. The testimonial from a long-term member further emphasizes the supportive community and the positive impact of their recent 8-week lockdown nutrition challenge.
Overall, my experience at Impact Training Bicester was enjoyable, and I felt motivated to continue pursuing my fitness goals in such an encouraging environment.
Impact Training Bicester Membership Costs & Options
Full Membership
£110 pm
Partial Membership
£95 pm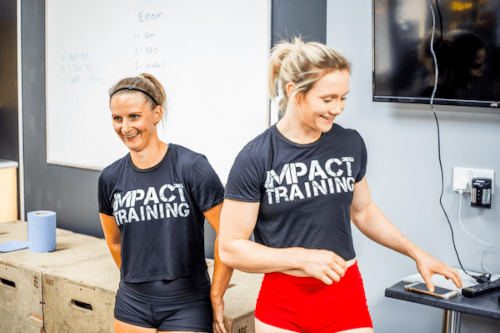 CrossFit classes
Beginners On-ramp program
40+ weekly sessions
Professional, certified coaches
Open Gym access
Monthly seminars and social events
Olympic weightlifting training
Personalized goal-setting consultations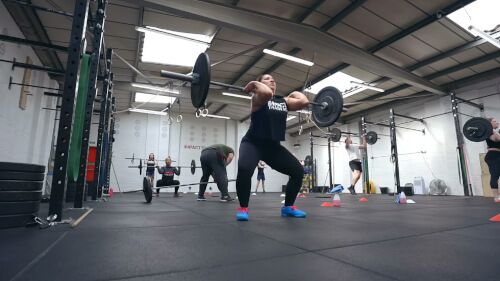 Over 40 classes per week including:
Crossfit:

High-intensity functional fitness workouts
Combines weightlifting, gymnastics, and cardio exercises
Constantly varied movements for a well-rounded fitness
Focus on community, support, and friendly competition

Olympic Weightlifting:

Focuses on two main lifts: snatch and clean & jerk
Develops strength, power, and speed
Improves coordination, balance, and flexibility
Technique-driven sport with emphasis on proper form

Functional Fitness:

Combines various exercises to mimic everyday movements
Enhances strength, stability, mobility, and endurance
Incorporates diverse equipment like kettlebells, TRX, and medicine balls
Adaptable to all fitness levels and goals
Impact Training Bicester Location
Address
Unit E12, Telford Rd, Bicester OX26 4LD
Telephone
n/a
Email
n/a
Monday to Friday
6.30am – 1pm
5pm – 9pm
Saturday
7am – 1pm
Sunday
9.15am – 11.30am
A Selection of Google Reviews
5 Stars – Liz
Cannot recommend this place highly enough. Get fit, get an amazing set of friends, and an amazingly welcoming atmosphere.
They also don't turn you away if you want to work out and cant get a babysitter !
5 Stars – Brian
This was our first visit to CFB and we were not disappointed. Josh and Martha welcomed us warmly and treated my daughter with the utmost respect. Everyone is there for the same thing and no one makes you feel out or weird. For a great community, tough workouts, CFB is where you should be. Well done Josh & Martha.
Google Reviews Overall Score - 4.7 Stars Finally I visited 1st4Fitness in Bicester, and I must say, it truly stands out from other gyms I've been to. From the moment I stepped in, I felt welcomed and supported by their expert coaches and friendly community. The atmosphere was inclusive and unintimidating, making it a perfect environment for people of all fitness levels.
What impressed me the most was their holistic approach to health and wellness. Not only do they provide personalized coaching to help you get fitter and stronger, but they also offer evidence-based nutrition guidance, helping you develop lifelong healthy habits. The regular check-ins, body scans, and support from both the coaches and fellow members made me feel like anything was possible.
The three-step process at 1st4Fitness – chatting with the team, booking a strategy session, and starting to get results – was easy to follow and motivating. The gym itself is well-equipped and comfortable, free from the typical intimidation found in traditional gyms. Moreover, their emphasis on mental health and wellness resonated with me, as they address the psychological aspects of fitness, like anxiety and self-esteem.
Overall, my experience at 1st4Fitness was truly transformative. Their commitment to helping clients build better bodies and live better lives is evident in their expert coaching, nutrition guidance, and superior support. I highly recommend giving 1st4Fitness a try if you're looking for a welcoming, fun, and effective fitness environment in Bicester.
1st4Fitness Bicester Membership Costs & Options
Full Membership
TBC
Partial Membership
TBC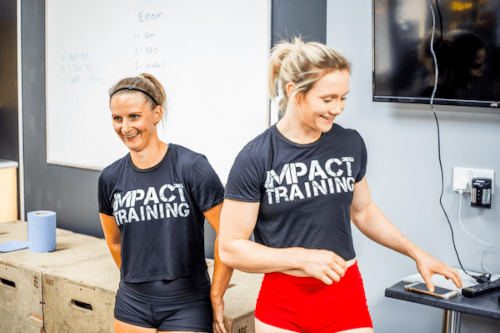 Fully equipped private gym space
Personalized exercise coaching
Evidence-based nutrition guidance
Regular check-ins and body scans
Supportive community and coaches
Strategy sessions and goal setting
Focus on mental health and wellness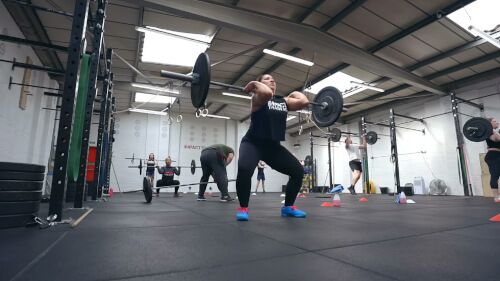 1st4Fitness Bicester Location
Address
Unit A11, Telford Rd, Bicester OX26 4LD
Telephone
07773 375666
Email
n/a
Monday & Wednesday
7am – 9pm
Tuesday & Thursday
9am – 8.30pm
Friday
7am – 8.30pm
Saturday
7am – 11am
Sunday
Closed
A Selection of Google Reviews
5 Stars – Sarah
Best gym and getting fit experience I've ever had! Not like other gyms at all.

Paul and Louise are brilliant, knowledgeable and kind, and are always on hand to make sure you're reaching your goals and potential.

The nutrition and exercise combined has made such a difference to both my mental and physical health. I've got more energy and feel so happy in my body.

I have never been sporty by any means. This is the first time I can honestly say I am enjoying exercise.
5 Stars – Nishant
Its a great place to improve your fitness. Each session here is worth it. And you can see the results instantly. I highly recommend 1st4Fitness for anyone looking for personal training. Thanks Paul & Louise for helping me improve my fitness and achieve my goals.
Google Reviews Overall Score - 4.9 Stars
Want to get fit in half the time?
Are you unsure about where to begin your fitness journey? Our Bicester personal trainer's complimentary 30 minute taster session is the ideal chance to test our services and discover how we can assist you in accomplishing your fitness aspirations!
So why not send Flavia a message and let's get this thing on!
And if you're into freebies, why not sign up for our free HIIT class in May, to be held outdoors in the wonderful Bure Park Nature Reserve.