Get Fit for Free in Bicester
As well as a free 25 minute taster session with your local HIIT at Home personal trainer, it's possible to find many different ways to get fit in Bicester for free.
Read on to learn how you can get fit for free whilst exploring our beautiful town of Bicester.
And if we've missed anything please let us know and we will add to this page.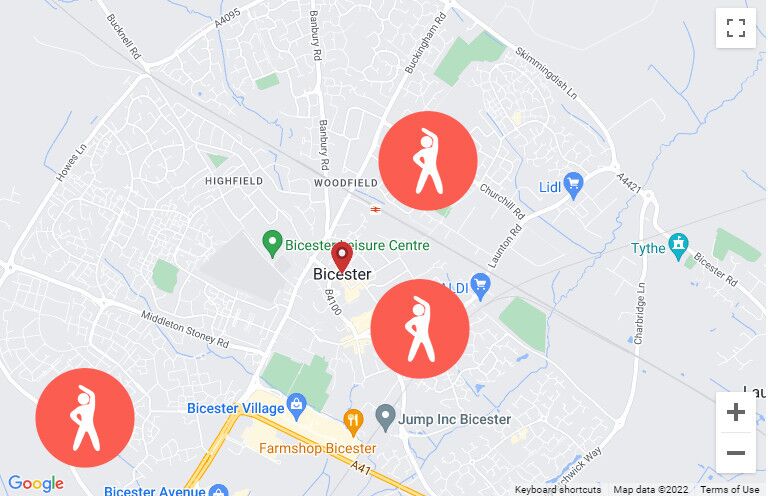 There are 3 outdoor gyms in Bicester. These have exercise equipment that is completely free for anyone to use.
No membership fees or contracts to worry about and you can even charge your phone using your own kinetic energy!
Warm up with a jog to your free gym then use each piece of equipment at high intensity for a minute with a 45 second rest between exercises. Complete 3 or 4 circuits, depending on your fitness levels, then warm down with a slow jog home.
Garth Park Outdoor Gym – Launton Road OX26 6PS
Pull Up, Assisted Pull Up, Energy Hand Bike, Energy Recumbent Bike, Energy Spinning Bike
Keble Road Outdoor Gym – Keble Road OX26 4TP
Pull Up, Assisted Pull Up, Dips, Leg Raise, Energy Hand Bike, Energy Spinning Bike
Whitelands Farm – Whitelands Way OX26 1AJ
Pull Up, Assisted Pull Up, Dips, Leg Raise, Energy Hand Bike, Energy Spinning Bike
If you live in Bicester, no doubt you've seen some blue lines on the pavements in various places. These are Bicester's Health Routes and each is a 5 KM run through some of the most scenic parts of our town.
All you need to do is find a blue line and follow it until it brings you back to where you started. Not only do you get fit for free but you also get to see parts of Bicester you probably never knew existed!
And there are handy 1KM markings so if you don't think you can make the full 5KM start small or even walk round as you will do over 7,000 steps which is most of the government's 10,000 step target.
Bicester West
Bure Park to Shakespeare Drive and on to Highfield then back home via Banbury Road
Bicester North East
Southwold Park to Ruskin Walk and Launton Meadows then back along Skimmingdish Lane
Bicester Langford
Jubilee Lake and Langford Village and then our own mini Stonehenge, the Stone Circle
As per Cherwell District Council's website:
"The Health Routes, funded by NHS England, are part of the Bicester Healthy New Town Programme. A key aim of the programme is to increase physical activity amongst residents."
Hit the button below to go to their website where you can download the Bicester Health Route maps.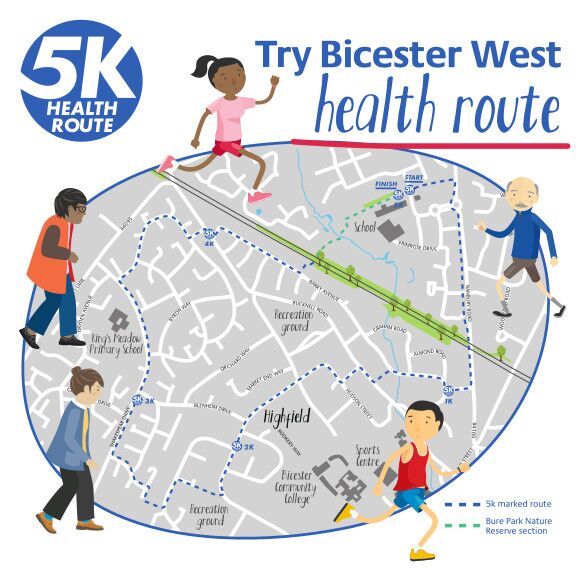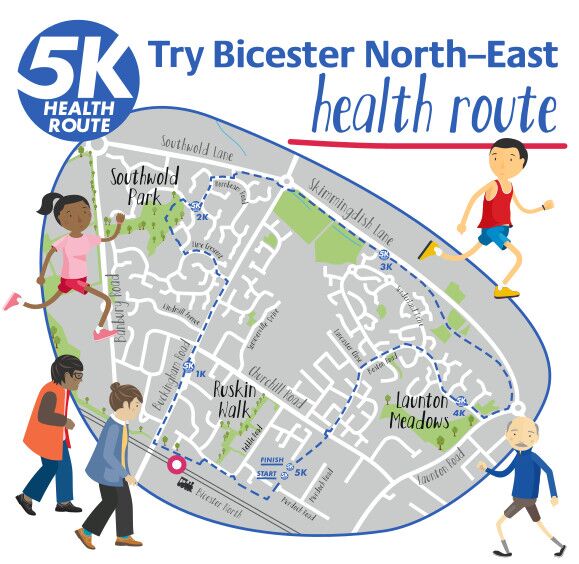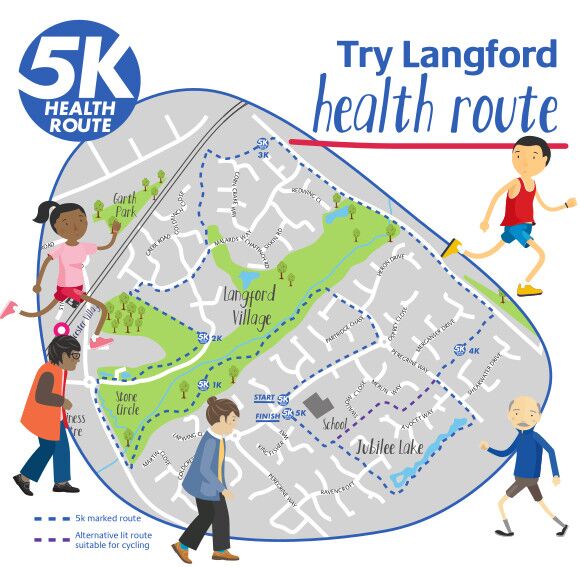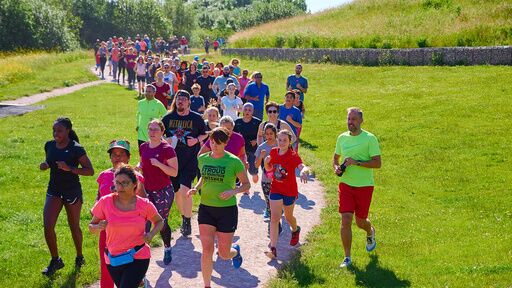 A fun way to get fit and meet some of your neighbours in a friendly and supportive environment. They meet once a week for a 5K run (or walk, it's up to you) around Bicester.
Get fit and meet locals at the same time. And, like everything on this page, it is completely free!
Further Information
Hit the button below to register on their website so you can get a barcode and you can then keep track of your personal best times.
When
Every Saturday at 9am
Where
Langford Fields, Langford Village, Bicester, OX26 6SX
Bicester Green Gym is a social community of volunteers who aim to get physically and mentally fit by working outdoors on various projects around Bicester.
Based in Bure Park, they meet on Tuesdays and are very keen to hear from new volunteers.
Past projects range from building Luxury Duck Residences to planting flower beds at Bicester North Train Station.
Get fit, meet people and store some Karma in the bank at the same time!
Hit the button below to visit Bicester Green Gym's website where you can sign up to help.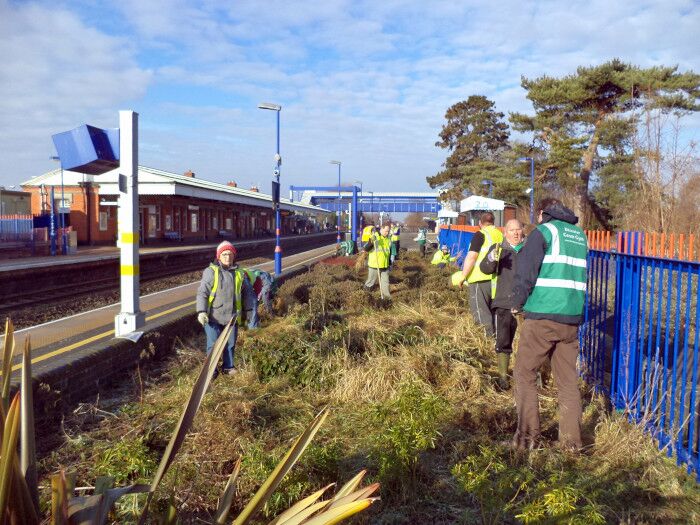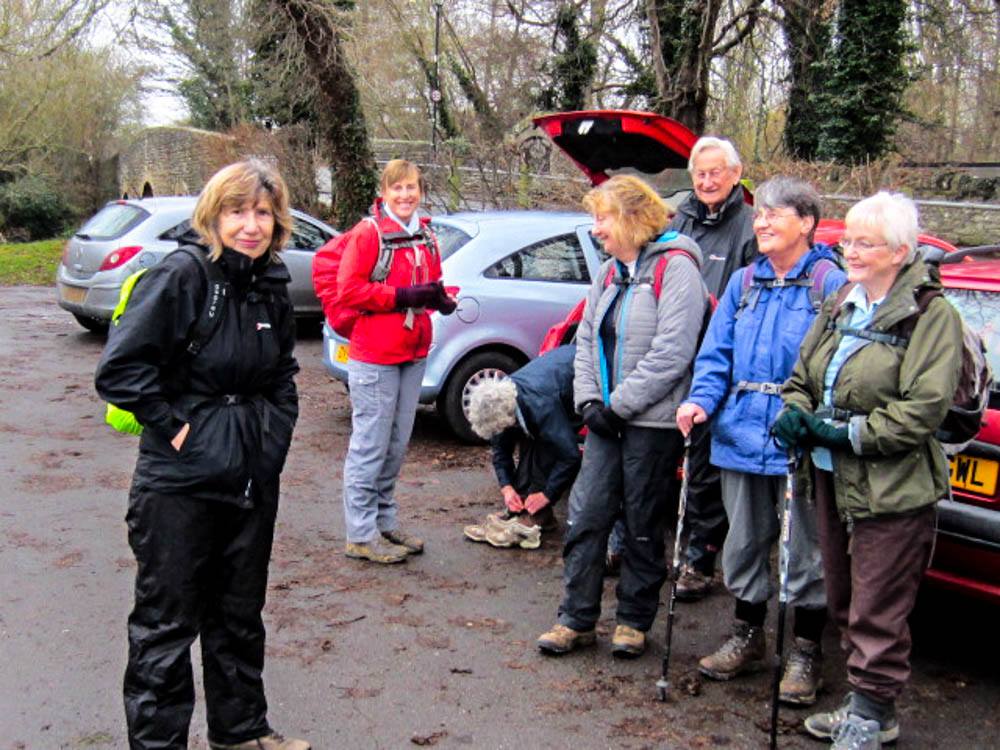 Bicester & Kidlington Ramblers
Volunteers organise a range of free walks around Bicester and Kidlington.
Short walks of less than 5 miles every 2nd and 4th Tuesday of the month and on the weekend they have longer walks with a short break for a picnic or pub lunch.
Ideal for those not ready for a 5k run or to do prush ups in the park!
The button below will take you to their website.
HIIT at Home free 25 minute taster session
Did we mention you can also get a free 25 minute taster session with your local HIIT at Home personal trainer, Flavia?!
Just click the button below to book it in.