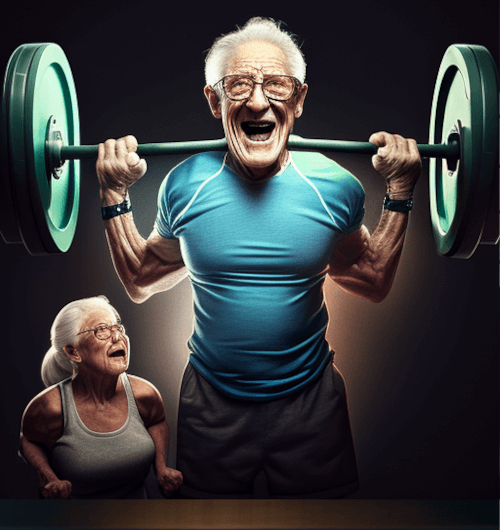 Learn The Benefits of a Personal Trainer for Older Adults
As a seasoned personal trainer with over seven years of experience, I have had the privilege of working with a diverse range of clients. One demographic that holds a special place in my heart is older adults. The transformative power of personal training for older adults is truly remarkable, and I am thrilled to share my expertise on this subject with you.
1. The Importance of Personal Training for Older Adults
1.1 Physical and Mental Health Benefits
It is no secret that maintaining an active lifestyle becomes increasingly important as we age. Engaging in regular exercise not only improves our physical well-being but also enhances our mental and emotional health. For older adults, the benefits of exercise are even more crucial, as it can significantly improve their quality of life.
1.2 The Role of an Experienced Personal Trainer
Working with a personal trainer who specialises in older adults can make a substantial difference in achieving fitness goals. As an experienced personal trainer, I understand the unique needs and challenges of working with older clients. With a combination of empathy, knowledge, and experience, I can help them unlock their full potential.
2. Personal Training Services for Older Adults
This service is ideal for those who prefer a hands-on approach and enjoy the motivation that comes from working directly with a trainer. In-person personal training allows me to closely monitor your progress, provide real-time feedback, and make necessary adjustments to your exercise programme.
For those who prefer the convenience of working out from home or have a busy schedule, online personal training is an excellent option. With my customised online programmes, you can access your workouts and receive personalised guidance from me through video calls and messaging.
3. Adapting to the Unique Needs of Older Adults
3.1 Tailored Fitness Programmes
When working with older adults, it is essential to adapt exercise programmes to cater to their specific needs. This includes considering factors such as reduced mobility, chronic conditions, and previous injuries. With my experience and knowledge, I can create tailored fitness programmes that accommodate these factors while still challenging you to reach your fitness goals.
4.1 The Power of High-Intensity Interval Training
As a HIIT expert, I can also integrate High-Intensity Interval Training into your exercise routine, even for beginners. My blog post "HIIT for Beginners" delves into the details of this powerful training method and how it can be adapted for individuals at any fitness level, including older adults. Incorporating HIIT can help improve cardiovascular fitness, build muscle, and burn fat, contributing to a healthier and more energetic lifestyle.
Finding the right personal trainer for older adults can make a world of difference in achieving your fitness goals and enhancing your overall quality of life. As an experienced and passionate personal trainer, I am committed to helping you unlock your full potential and live a vibrant, healthy life in your golden years.
Whether you opt for in-person or online personal training, you can trust me to deliver a tailored fitness programme that suits your unique needs and preferences. With my guidance and support, you will be well on your way to enjoying the numerous benefits of an active lifestyle.